St. Nicholas
Adult
Christian Education for the Winter 2023
A book study on the modern Orthodox classic work,
Wounded By Love,
by St. Porphyrios

Meeting via Zoom on Wednesday evenings at 7 PM, from January 4 - February 22, 2023
All are welcome! No prior knowledge or reading of the book is required.
Please RSVP to Fr. Romanos at this email to receive information on the study and how to obtain the book, if you need one. frromanos@gmail.com
About St. Porphyrios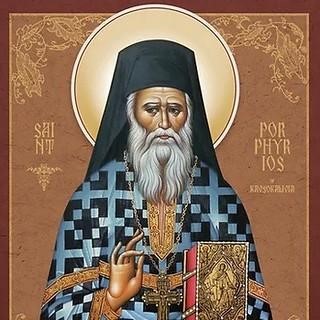 Saint Porphyrios (+1991) was an Athonite hieromonk known for his gifts of spiritual discernment and foreknowledge. He was recognized as a saint by the Ecumenical Patriarchate in 2013 and his feast day is December 2.
Saint Porphyrios (Bairaktaris) was born in 1907 with the name Evangelos in Evoia, Greece, in the small village of Agios Ioannis (St. John). As a child tending sheep in the hills, he read the life of St. John the Hut-Dweller (+January 15). The divine spark lit by reading about St. John became a flame when he overheard a conversation about the divine beauty of the Holy Mountain, Mount Athos, when he was seven years old.
At age 13, he found his way to the Skete of the Holy Trinity (Kafsokalyvia). He was later tonsured with his monastic name of Nikitas, becoming a monk while he was still a teenager. For six years, the saint served in the Skete of Kafsokalyvia in the Cell of St. George under two spiritual fathers: Fr. Panteimon and Fr. Ionnakios.
Forced by pleurisy to depart Mt. Athos, St. Porphyrios returned to his birthplace, the village of Agios Ioannis in Evoia, where he was reunited with his family. In recovery, he stayed at the Monastery of St. Haralambos. At this time his good reputation as a faithful and obedient monk began to spread, catching the notice of Bishop Fostinis of Kymi. The Bishop began to visit Porphyrios and with the aid of Archbishop Porphyrios III of Sinai (from whom Porphyrios was given his final name), he ordained the young monk a deacon and then a priest. Two years later St. Porphyrios was made a confessor. At times, the Saint would hear confessions for days at a time without sleep or food.
With the outbreak of World War II Fr. Porphyrios became a hospital chaplain in Athens, serving faithfully in the church of St. Gerasimos, continuing for three decades until his retirement in 1970. During this time he helped many patients spiritually by acting as their father confessor. In addition to his hospital duties, he helped to renew the Church of St. Nicholas in Kallisia, often visiting it during the night hours to pray. He continued to offer his service as a hospital chaplain until 1973, after which he served in Kallithea and Milesi.
However, St. Porphyrios had still been unable to fulfill another dream he shared with his family: founding a monastery. After years of searching, he bought some land upon the top of a hill in Milesi where he later founded The Holy Monastery of the Transfiguration. He remained there for many years, devoting his time to the construction of the Monastery.
In 1984 he sought to return to Mount Athos in order to occupy the same cell which he had earlier in life been forced to abandon. This was in order to fulfil his monastic vows and to avoid any honors by being buried in the world. The request was granted following the repose of the previous occupant of the cell, and so, together with three of his disciples, he returned to the Holy Mountain.
Having foretold to one of his spiritual children that he would repose when the number of his disciples in the cell had reached five, he prepared his tomb. His blessed repose was at 4:31 in the morning of December 2, 1991.
According to his request, a vigil was served by his spiritual children. In order to avoid posthumous honors and praise, the fathers of the monasteries were only informed after his burial.
Through his role as spiritual father and because of his God-given gifts of insight, clairvoyance, and foreknowledge, Elder Porphyrios became known to an ever-wider circle of Orthodox followers both before and after his repose. Soul-inspiring compilations of stories and sayings attributed to him have been published and widely circulated in North America. His popular book Wounded by Love is available from Ancient Faith Publishing.